About PlasmaAir AG
The german company PlasmaAir AG has been active in the field of plasma technology application and air pollution control for more than 20 years.
In the field of plasma technology, PlasmaAir is a leader in the design, implementation and commercialisation of advanced plasma processes. The emphasis is on plasma source development and its application for waste disposal, pyrolysis, CO2 mitigation and hydrogen production. Turn-key plasma systems are available for installation in customer systems.
PlasmaAir AG offers a wide range of services to customers in the field of air pollution control: from emission measurement to the conceptual design of exhaust air capture and purification systems to turn-key exhaust air purification systems individually optimised to the customer's exhaust air problem. The main focus lies on processes such as adsorption plants, biofilters, bioscrubbers and chemical scrubbers.
Especially for the purification of exhaust air streams with high concentrations of volatile hydrocarbons, a cost-effective and resource-saving process has been developed and implemented in industry for various exhaust air problems.
In close cooperation with renowned research institutes and universities, PlasmaAir is able to tackle even complex problems efficiently and successfully. Due to its know-how in the field of small series production, flexible and problem-oriented solutions for specific exhaust air problems can be offered. Research and development has a high priority in the company and is promoted within the framework of R&D projects in cooperation with universities and research institutes.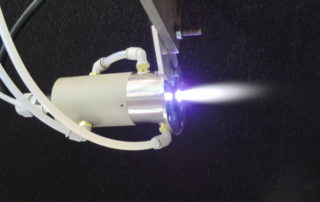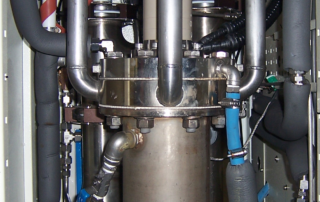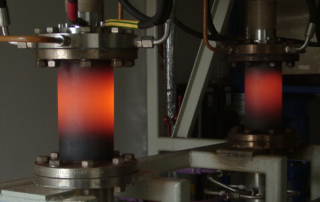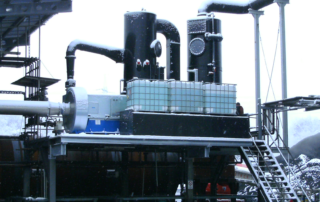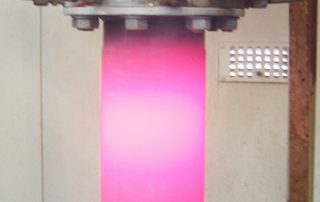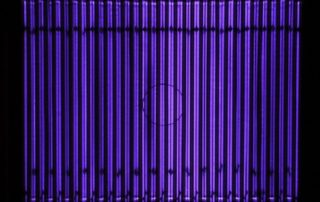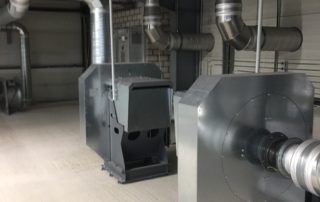 Systems built by PlasmaAir AG
plasma scrubbers for cleaning exhaust air streams for the semiconductor industry
thermal plasma sources with steam as working gas for pyrolysis and CFC combustion
non-thermal plasma sources for odour reduction, e.g. of exhaust air of a sewage plant
sieve tray scrubbers for eliminating alcohols from exhaust air streams, e.g. in egg dyeing plants
biofilters for odour reduction and degradation of hydrocarbons e.g. coating plants
chemical wet scrubbers for the elimination of ammonia and organic amines e.g. foundries and composting plants
special systems for exhaust air purification of battery test benches or test systems for the examination and qualification of facade insulation materials
adsorption plants for solvent-containing exhaust air streams
mobile test plants for on-site piloting
conceptual design of exhaust air collection systems
emission analyses in cooperation with partners
Our references
Plasma technology:
Solvay Fluor und Derivate: water plasma system for CFC disposal
Centrotherm: POU plant for the semiconductor industry
Zyra: water plasma for exhaust air purification for the semiconductor industry
BluePlasma Power, Spain: production of synthetic fuels
Atomic Craft, Taiwan: production of titanium powder for 3D printing
Chemical scrubbers:
Nemak: amine scrubber for 50,000 m³/h
VW Hannover: amine scrubber for 30,000 m³/h
GF Singen: HCl separation 800 m³/h
Sun Chemical: 7,500 m³/h
Alu Stockach: 8,000 m³/h
Freudenberg: 5,000 m³/h
Combination dust separation and odour reduction:
TÜV Süd Battery Testing: 5,000 m³/h
STO fire protection test room: 12,000 m³/h
Sieve tray scrubbers for the separation of highly volatile alcohols:
Endress and Hauser: 3 plants
Nabaltec: 800 m³/h
Schlötter: 3,000 m³/h
Daimler AG Rastatt: 3,500 m³/h
Eierhof Görtz: 800 m³/h
Glasmanufaktur Brandenburg: 2 plants 11,000 m³/h
Large-scale plants – combination of dust collection and odour reduction:
Neue Halberg Guss: 3 plants 120,000 m³/h
Daimler AG: 70,000 m³/h